A Student-Centric Culture
Frederick University is a dynamic and vibrant university, with a student-centric culture. What it means to be student-centered? It means we are dedicated to helping students reach their full potential, develop their talents and skills and fulfil their dreams.
The way the University operates is centered around the student, both collectively and individually. Every function serves the students' needs, so that they can perform at their best, develop their talents and abilities and fulfil their dreams.
We treat each student as a separate, unique entity and work tirelessly so that students can express their creativity and learning desire, can acquire and integrate knowledge, with means suited specifically to their character traits.
The renowned academic staff is standing by the student at each step, supporting them and ensuring that they will develop into independent individuals with the appropriate scientific knowledge and skills. And this is just an example.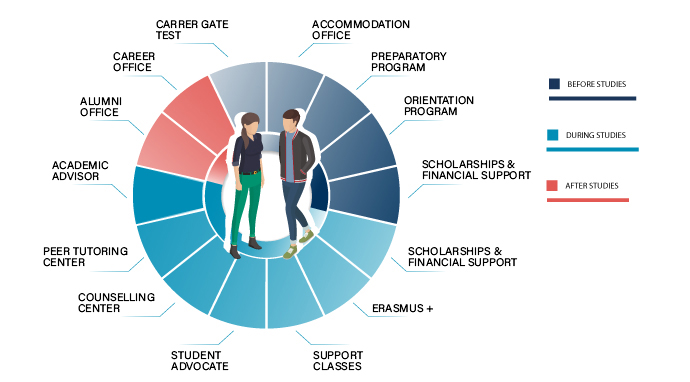 We strive to support our students holistically, not just academically but in all aspects of their university experience. That's why we have developed a wide range of services to support students before, during and after their studies
Natassa Frederickou, President of the Council
Student Services
Our Student Services embody our student-centric approach. They are intended to promote the academic, personal and professional development of our students and assist them in overcoming any challenges.
They aim to empower them from their first day on campus and continue to do so even after their graduation. They strive to make them agents of change that make a positive impact and contribute to a sustainable future for all.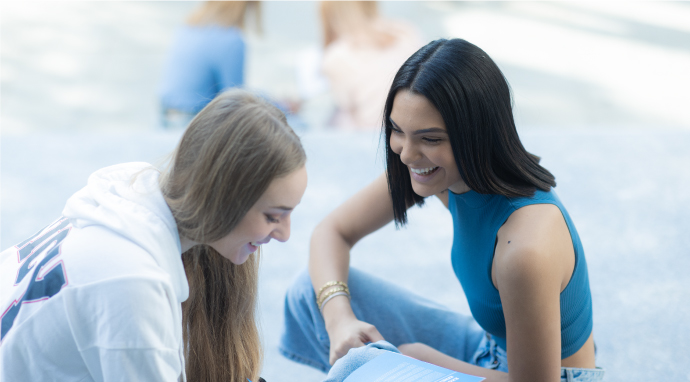 As a minimum, we ensure our student community enjoys the following through our Student Services:
All-round induction program for new-comers that supports a successful transition to university
Ongoing access to academic advisor and personal development coaching
Ongoing access to counselling and mental and wellbeing support services
Access to a diverse range of co-curricular activities that complement classroom activities
Access to opportunities to study abroad, travel in and outside the country
Access to opportunities to gain research experience and engage in research work
Access to academic development and tutoring services that support them in overcoming academic difficulties
Equal opportunities and no discrimination or bias, whether obvious or tacit, in relation to ethnicity, race, color, religion or belief, disability, gender, or sexual orientation.
Encouragement of diversity and inclusion
Representation in the governance of the University through the Student Union
Access to modern educational technology on campus and online
Access to extracurricular activities that provide outlets for students' needs and interests
Access to an environment that creates new ways of thinking and opens new world views
Access to on-campus facilities that support a robust social life and academic development
Access to opportunities for work experience and career development activities alongside their studies
Access to career advice and mentoring during and after the studies
Access to an alumni network that provides support in professional development and engagement with the University community and the job market
We see the University experience through the eyes of our students. We strive to maintain an ongoing communication with them, getting feedback on their everyday experiences and listening to their aspirations as they navigate their journey as students and as graduates.
Our project #TheJourneyToMySuccess is inspired by Frederick University students' and graduates' stories on their journey to success. Success means different things to each one of us. The project aims to highlight how our students and graduates define success and inspire each one of us to create our own path to achieve success.
View our students' and graduates' stories here.
Send your own story to success@frederick.ac.cy