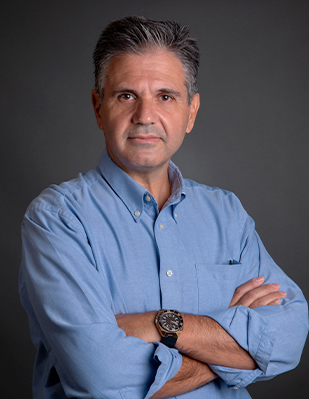 Special Teaching Staff
Mr. Yiannos Loizides
Department
Business Administration
Post
Email
bus.ly at frederick.ac.cy
Mr Loizides has been a Lecturer in the Business Department of Frederick Institute of Technology (FIT) since 1993 and at Frederick University since 2007/2008. His area of specialization is Marketing. He is currently teaching various courses in Marketing ranging from introductory courses (Principles of Marketing, etc) to more advanced courses, such as, Personal Selling & Sales Management, Product Planning & Product Strategies, Consumer Behaviour, to undergraduate and MBA students. Moreover, He also supervises students undertaking research in Marketing-related subject areas.
As a faculty member at Frederick, he has contributed in developing vavious undergraduate and post-graduate programs offered by the Scholl of Economic Sciences and Administration. Over the years, Mr Loizides had a range of other administrative and academic duties. During the period of 1999 – 2003, he was the course supervisor for the two-year diploma in Business Studies and was also involved in the formulation and implementation of the marketing strategies for the promotion of FIT in international markets and for the recruitment of international students. For the period 1999-2006, he was the administrative officer for the MBA programme.
His main research interests lie in the area of marketing and marketing communications and more specifically advertising to children. He is the co-author of the Chapter on Cyprus in the book: Female Immigrant Entrepreneurs: The economic and social impact of a Global phenomenon, Gower Publishers, London, UK (published in 2010). Currently, he is involved in a research Project, entitled 'The effects of advertising on children aged 6 to 12 years old", aiming at developing an educational program which will help primary shoool teachers to teach the necessary skills to children in order to become critical towards advertisements.
Since 2015 Mr Loizides has been a member in the Board of Directors in two companies in Nigeria, the P.S Mandrides PLC, a public company listed in the Nigeria Stock Exchange located in Kano and also in the Nigerian Bulk Oil Company Ltd (NBOC). During this period he has gained valuable experience in the management of a private and public company which has helped him a lot in teaching using real and practical examples in class.
Go back