Maritime Transport & Commerce
Profile
Main thematic areas
Shipping, Ports, Marinas, Oil & Gas, Marine Environment, Commerce, Sustainable Urban Development, Coastal Cities Development, Coastal Environmental Monitoring, Green Energy Transition, Water sports, Aquaculture, Fisheries
Collaborate with us
We work with businesses and organisations of all sizes and sectors. Click here to find out how our research can help you through consultancy, licensing and technology transfer, collaborative research and more.
Overview
The Department's Research Team aims at the involvement of BSc and MSc students in the whole research process, i.e. proposal drafting, project implementation and project monitoring. Additionally, the Research Team aims at the involvement of PhD students in order to further boost the research output capacity of the Department.

The Department of Maritime Transport and Commerce has already established long term achievements in all research fields and aspects;
The main research activities are:
Participation in Research Projects either funded or not.
Development of research project proposals along with sound Institutions from abroad (RESTART, Interreg, ENI MED, Erasmus+, etc)
Participation in public Tenders and conduct research studies on behalf of local and foreign Public and private Institutions
Publishing scientific papers in sectoral Journals and Conferences
Development of strong links with the business community and the society
Development and implementation of professional training courses linking the academic and business sectors
The number of personnel involved in research proposal drafting procedure and/or the project implementation procedures sums up to 29 persons, including permanent, full time, part time, visiting and special teaching personnel. The areas of expertise cover all the aspects of Shipping Markets and Economics, Commodity Trade, Port Economics, Liner Shipping, Logistics and Maritime Regulations, as well as Marine Safety and Environmental aspects.
The team comprises an excellent mix of market oriented and academic staff with strong relationships and synergies with the shipping related Organizations and Institutional Authorities.
| Start Year | Project Title | Lead Partner/ Assignee | Funding from | Project Website |
| --- | --- | --- | --- | --- |
| 2022 | ENVIRONAUT: ENVIRonmental Officer in the NAUtical Tourism industry | German Marine Federation (BVWW) | Erasmus+ | https://environaut.eu/ |
| 2020 | Blue Limassol Environmental Risk Assessment Study | Frederick University | Limassol Municipality | https://www.limassol.org.cy/el/blue-limassol-forum-2022-research |
| 2019 | ECOPORTIL - Environmental Protection of Areas Surrounding Ports using Innovative Learning Tools for Legislation | University of Ioannina | INTERREG | https://www.ecoportil.eu/ |
| 2018 | Productivity Analysis: Haifa vs other European Ports | Frederick University | Israel Shipyards Port Ltd | N/A |
| 2016 | EYKINISI – Integrated Telematic Services for Sustainable Urban Mobility | Municipality of Rhodes | INTERREG (Greece – Cyprus) | https://www.eukinisi.eu/en/ |
| 2014 | E-SHIPPING: E-Learning Platform for the Shipping Industry | Department of Merchant Shipping – Cyprus | INTERREG (Greece – Cyprus) | N/A |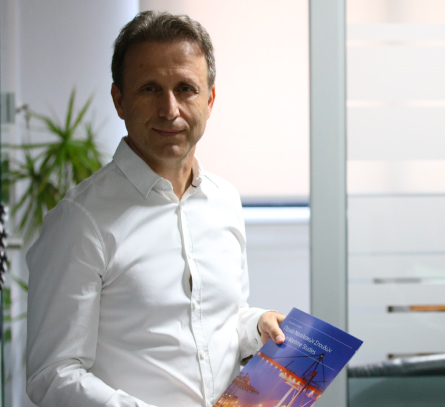 STORIES
Effective environmental coastal risk management requires careful and holistic consideration of relevant social, cultural, ecological and economical dimensions. It's the only way possible to operate commercial sectors along the coast in a sustainable manner and this is what we focus on.
Dr Angelos Menelaou