News
Girls aged 9-12 were introduced to the exciting world of STEM at Frederick University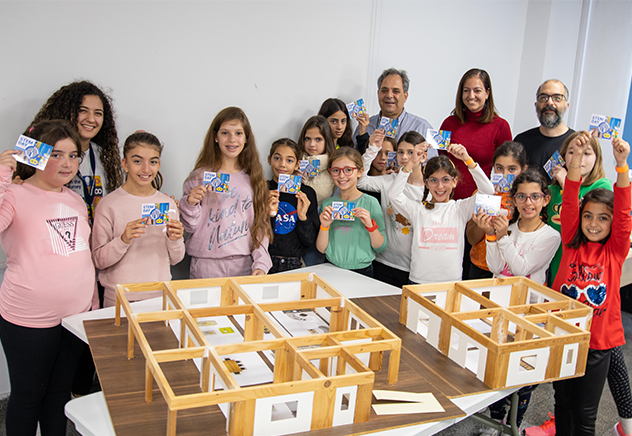 After successfully organizing STEM Day in Nicosia last May, Frederick University gave the opportunity to girls aged 9-12 in Limassol to spend a day dedicated to STEM (Science, Technology, Engineering and Mathematics) on November 19.
Robotics workshops, Pharmacy and Architecture workshops were specially designed for the event by faculty members at the
Department of Pharmacy
, the
Department of Architecture
, the
Department of Electrical Engineering, Computer Engineering and Computer Science
, and the
Department of Education
in collaboration with Frederick University's
Robotics Academy
. The workshops were implemented by both members of the academic staff and students of the University who guided the girls in their journey to learn more about these fields where women are traditionally underrepresented.
Through science experiments during the Pharmacy workshop, the girls were able to see how colors change due to the acidity of solutions and form their own foamy rainbow. In the Robotics workshop, they learned about coding and experimented with programming their race car on computers, while in the Architecture workshop, they explored the model of a two-story building. The girls also participated in the "Breaking News" empowerment activity by the Mediterranean Institute for Gender Studies (MIGS) in which they learned to identify and resist dominant gender stereotypes in order to find their own voice. This activity was coordinated by Dr. Christina Kaili, from MIGS.
Parents also had the opportunity to attend a workshop on "
Learning ways to mentally develop and strengthen my child's self-esteem
". The workshop was conducted by Dr. Louiza Ioannidou, Registered School Psychologist and Lecturer in the
Department of Psychology and Social Sciences
at Frederick University and Dr. Katerina Michail, educator, psychologist/psychotherapist and Visiting Lecturer in the
Department of Education
at Frederick University.
STEM Day is part of Frederick University's long-term
campaign
: "
To all women & girls: Join the journey in Engineering, Science and Technology
", which aims to increase the participation of girls and women in STEM fields that present excellent growth potential. The campaign, which is funded by the Commissioner for Gender Equality, also aims to raise awareness and break stereotypes in relation to girls' and women's choice of studies and careers. To this day, many girls face discrimination, prejudice, social norms and expectations that influence their choices.
"
The encouraging response of girls and their parents to STEM Days fills us with optimism and motivates us to continue our actions to address the underrepresentation of women and girls in STEM. This is not just about gender equality. The presence of women and girls in designing technological applications is essential in jointly addressing global challenges and achieving the sustainable development goals. It is only through diversity that real innovation, growth, ingenuity and creativity can be achieved and this is what we aspire to through this campaign
" says
Mrs Natassa Frederickou, President of the Council at Frederick University
.
In addition to STEM Days for girls aged 9-12, Frederick University organizes STEM Camps for girls aged 13-16 and other activities in collaboration with successful women in STEM fields who are a source of inspiration. Also, the University offers 50% scholarships to all girls who choose to study (undergraduate level) at Frederick University's
School of Engineering
(Architectural Engineering, Automotive Engineering, Civil Engineering, Computer Engineering, Computer Science, Electrical Engineering, Mechanical Engineering).
More information about Frederick University's campaign and the actions taking place within this framework:
https://www.frederick.ac.cy/women-in-STEM/el/