PROGRAM DETAILS
Duration18 months
Fees
€9,000 for whole program
LanguageGreek
CampusNicosia
DOWNLOAD BROCHURE
Qualification Awarded
MA in Educational Administration and Leadership
Level Of Qualification
Master (2nd Cycle Degree)
Offered by
Department of Education
Mode of Study
Full Time or Part Time
In the current era, effective school leadership is widely recognised as one of the most important school factors on students' academic achievement. Specifically, nowadays demands for the essential qualities of an effective school leadership are more important, than ever before, since the role of the school principal is a key component in implementing policies, innovations, promoting change, as well as improving the teaching and learning processes within the school organization. However, school principals and educational leaders in general cannot succeed, unless they are highly qualified and trained on various administration and leadership topics and tools.

The MA in Educational Administration and Leadership programme is specifically designed for school principals and leaders, as well as aspiring new leaders to reach their maximum potential in educational organizations, by offering tools and knowledge in critical aspects on the leadership function. Furthermore, the programme is addressed to educators of all levels (elementary, pre-primary, and secondary education) and settings (formal, informal and non-formal education) of public and private education. In general, through the MA in Educational Administration and Leadership programme, students can develop a thorough and complete background on all major theories and research of educational administration and leadership, as well as to acquire a critical perspective and various leadership tools on topics related to effective and succesul leadership, human resource development, effective teamwork in education, teaching and learning, technology and multicultural education ect.

Particularly, the design of the program is based on the following thematic units:
- Presentation of current theories and research findings on effective/ successful school leadership,
- Developing the skills and capabilities of school leaders to lead educational organizations successfully and effectively,
- Developing critical and analytical prespective on topics related to both the theory and practice of educational administration and leadership.
The language of instruction is
Greek
.
Upon completion of the programme, students are expected to:
1. Develop a thorough and complete background on all major theories and practice of educational administration and educational leadership,
2. Analyze and interpret behaviours in educational settings,
3. Select and implement appropriate leadership styles based on school and personnel settings,
4. Analyze and criticise research studies in educational administration and leadership,
5. Acquire a critical perspective and leadership tools on teaching and learning, technology, team leadership, cros-curriculum education and on other topics in school settings
6. Develop a framework in human resource management,
7. Analyze the main principles on school culture as well as to improve, implement and/ or change school culture in school organizations,
8. Use technology and technological tools during their leadership practice,
9. Work effectively with various internal and external school stakeholders such as teachers, parents, students etc.,
10. Develop an appropriate school environment and culture for all students,
11. Understand the decision-making process and human resource management
- The design of the postgraduate program aims at providing educators and other stakeholders with the appropriate theoretical/empirical background based on the latest research findings and practical knowledge and skills, in order to become efficient school leaders and to address the multiple increasing challenges of leading an educational organization, both in the Cyprus and Greek context.
- The graduates of the program possess all the necessary knowledge and skills required to promote an effective and successful school leadership for the benefit of students as well as the school organization in general.
- Subsequently, graduates of the program can work as school principals/ assistant school principals at all levels of public and private education or be employed in other public services, in organization/institutions, semi-government organizations and private enterprises. Current students include teachers, vice principals and school inspectors, aspiring to further broaden their knowledge on educational management and administration.
- Moreover, they can pursue further postgraduate studies at doctoral level.
The admission requirements are specified in the General Student Regulations as well as in the Frederick University Studies Regulation.

An undergraduate degree from a recognized university or the equivalent international qualification or an acceptable professional qualification is considered the main academic requirement.

Additionally, very good knowledge of Greek and English is extremely important. Advantage is considered the demonstration of satisfactory knowledge of English language (suitable qualifications may include TOEFL, IELTS, GCSE, IGCSE, and Cambridge Certificate of Proficiency in English or equivalent).

Prospective students are expected to submit their application and all related documents, such as copies of their degrees, transcripts, two letters of recommendation from professors or supervisors in the workplace and a research interest report. Where the Evaluation Program Committee deems necessary, the candidates may be asked for an interview meeting.

By the expiry of the application deadline for admission to the program, the Evaluation Program Committee will evaluate prospective students based on specific criteria, such as academic records, recommendation letters, digital literacy, research interests, interview, work experience, knowledge of Greek and / or English etc. The committee decisions are announced by electronic mail or otherwise to all candidates.

Transfer of credits from other academic institutions complies with the regulations of the University for transfer students and recognition of previous studies. There are also special regulations and procedures for enrolment of graduates into professional associations and recognition of degrees and higher education qualifications as set by KYSATS and DOATAP (Hellenic NARIC).
Examination Regulations, Assessment and Grading
There are no specific examination regulations, assessment and grading methods employed by this Program. The
examination regulations
,
assessment methods
and
grading system
for this Program are the same as the relevant general university regulations.
Graduation Requirements
Students are eligible for graduation after successfully completing 90 ECTS credits in the courses listed in the Program Structure. Furthermore, a student can graduate only if their CGPA is greater or equal to 5.00 out of 10.00. Graduating students with a CGPA less than 5.00 might have to take extra courses or repeat a number of courses in order to improve their grades.
Access to Further Studies
The graduates of the Program have access to doctoral programmes (3rd Cycle) in disciplines related with education.
Module Group
ECTS
The student must successfully complete 60 ECTS, from the following list of modules:
The student must successfully complete 30 ECTS, from the following list of modules:
| No. | Code | Name | ECTS | Hours / week |
| --- | --- | --- | --- | --- |
| 1 | EDA056 | EDUCATIONAL LEADERSHIP AND TECHNOLOGY | 10 | 3 |
| 2 | EDA057 | EDUCATIONAL POLICY AND EDUCATIONAL CHANGE | 10 | 3 |
| 3 | EDA058 | EDUCATIONAL ADMINISTRATION AND CROSS-CURRICULUM EDUCATION | 10 | 3 |
| 4 | EDA059 | MANAGEMENT AND DECISION MAKING | 10 | 3 |
| 5 | EDA060 | MANAGEMENT AND HUMAN RESOURCE DEVELOPMENT | 10 | 3 |
| 6 | EDA061 | TEAM LEADERSHIP IN EDUCATION | 10 | 3 |
| 7 | EDA062 | SUSTAINABLE DEVELOPMENT ISSUES, PRINCIPLES AND GOALS | 10 | 3 |
| 8 | EDA063 | TEACHING, LEARNING AND EVALUATION | 10 | 3 |
| 9 | EDA064 | CURRENT TRENDS IN SPECIAL AND INCLUSIVE EDUCATION: THEORY AND RESEARCH | 10 | 3 |
| 10 | EDA065 | CURRICULUM STUDIES | 10 | 3 |
Total
90
Semesters
ECTS
| No. | Code | Name | ECTS |
| --- | --- | --- | --- |
| 1 | EDA051 | THEORIES AND PRINCIPLES OF EDUCATIONAL ADMINISTRATION AND LEADERSHIP | 10 |
| 2 | EDA052 | EFFECTIVE AND SUCCESSFUL SCHOOL LEADERSHIP | 10 |
| 3 | EDA053 | RESEARCH METHODOLOGY | 10 |
| | TOTAL | | 30 |
| No. | Code | Name | ECTS |
| --- | --- | --- | --- |
| 1 | EDA054 | MASTER THESIS I | 20 |
| 2 | | ELECTIVE COURSE | 10 |
| | TOTAL | | 30 |
| No. | Code | Name | ECTS |
| --- | --- | --- | --- |
| 1 | EDA055 | MASTER THESIS II | 10 |
| 2 | | ELECTIVE COURSE | 10 |
| 3 | | ELECTIVE COURSE | 10 |
| | TOTAL | | 30 |
The delivery of the program of study is supported by the following members of staff: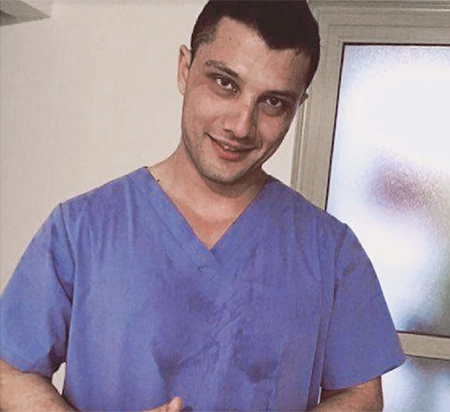 STUDENT STORIES
At Frederick University, next to my professors, I felt unique. Their genuine interest and their passion to transfer knowledge and give educated humans back to the society were invaluable. I had professors - examples who were like family to me. Their faith in me pushed me to appreciate myself.
Photis Michael