ANNOUNCEMENTS
National Graduate Tracking and the EUROGRADUATE surveys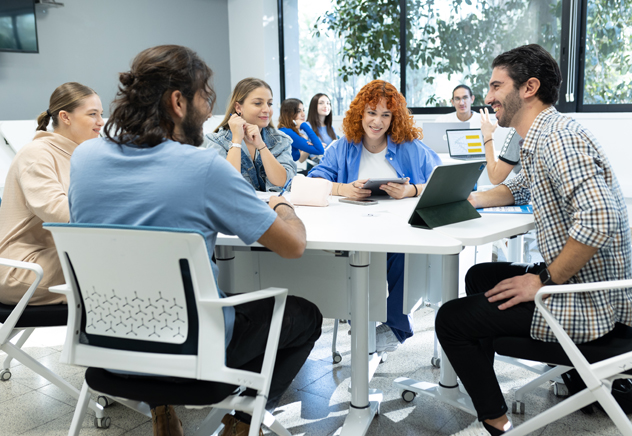 Ακολουθεί ελληνικό κείμενο
Frederick University is participating in the National Graduate Tracking and the EUROGRADUATE surveys, which will be carried out by the Department of Higher Education of the Ministry of Education, Sport and Youth, in cooperation with PricewaterhouseCoopers (PwC) Cyprus Limited. The main aim of the surveys is to collect data on the experiences of Cypriot and European graduates during their studies in Higher Education and the impact of these experiences on their professional lives and their lives as European citizens.
Official Website of the Project

Who can participate in the survey?
The first cycle of the project (Fabruary – March 2023) is addressed to graduates from all Higher Education Institutions of Cyprus who graduated from Study Programs in the academic years 2016-2017 and 2020-2021 that led to the acquisition of the following Degrees, participate in this cycle: Certificate, Diploma, Higher Diploma, Bachelor or Master.
In order to fill out the survey you must enter your personal access code, which was sent to you by Frederick Careers Office. It is noted that, in case you do not know your access code, you can contact us at careersoffice@frederick.ac.cy
Contribute to the enrichment of higher education experience in Cyprus!
While participation in the questionnaire is voluntary, it is extremely important! The feedback from our alumni will help collect data for policy planning with the aim of improving the connection between the Educational System and the labor market at national level.
Upon completion of the questionnaire, you will be able to participate in a draw to win big prizes (flight tickets, hotel stays and gift vouchers).
To Πανεπιστήμιο Frederick συμμετέχει στην Εθνική Έρευνα Παρακολούθησης Αποφοίτων και στην έρευνα EUROGRADUATE που υλοποιούνται στην Κύπρο από τη Διεύθυνση Ανώτερης Εκπαίδευσης του Υπουργείου Παιδείας, Αθλητισμού και Νεολαίας, σε συνεργασία με την εταιρεία PricewaterhouseCoopers (PwC) Cyprus Limited. Σκοπός και των δύο ερευνών είναι η συλλογή δεδομένων για τις εμπειρίες απόφοιτων Ανώτερης Εκπαίδευσης κατά τη διάρκεια των σπουδών τους και τον αντίκτυπο των εμπειριών αυτών στην επαγγελματική τους πορεία, αλλά και στη ζωή τους ως Ευρωπαίοι πολίτες.
Διαδικασία συμμετοχής:
Στον συγκεκριμένο κύκλο (Φεβρουάριος & Μάρτιος 2023) συμμετέχουν οι απόφοιτοι/ες όλων των Ιδρυμάτων Ανώτερης Εκπαίδευσης της Κύπρου οι οποίοι/ες αποφοίτησαν από Προγράμματα Σπουδών τα ακαδημαϊκά έτη 2016-2017 και 2020-2021 τα οποία οδήγησαν στην απόκτηση των πιο κάτω Τίτλων Σπουδών: Πιστοποιητικού, Διπλώματος, Ανώτερου Διπλώματος, Πτυχίου ή Μάστερ.
Για τη συμπλήρωση του ερωτηματολογίου απαιτείται ο προσωπικός κωδικός πρόσβασης, ο οποίος έχει αποσταλεί στους απόφοιτους/ες των πιο πάνω ετών από το Γραφείο Σταδιοδρομίας του Πανεπιστημίου. Σε περίπτωση που δεν τους έχετε λάβει και επιθυμείτε να συμπληρώσετε το ερωτηματολόγιο, παρακαλούμε όπως επικοινωνήσετε με το Γρ. Σταδιοδρομίας στο careersoffice@frederick.ac.cy
Συνέβαλε κι εσύ στη βελτίωση της Ανώτερης Εκπαίδευσης στην Κύπρο!
Η συμμετοχή στην έρευνα είναι εθελοντική αλλά πολύ σημαντική, καθώς η ανατροφοδότηση των αποφοίτων θα συμβάλει στη βελτίωση της Ανώτερης Εκπαίδευσης στην Κύπρο και της διασύνδεσης του Εκπαιδευτικού Συστήματος (Μέσης και Ανώτερης Εκπαίδευσης) με την αγορά εργασίας.
Με την ολοκλήρωση της συμπλήρωσης του ερωτηματολογίου (απαιτούνται περίπου 20 λεπτά) οι συμμετέχοντες/ουσες θα λάβουν μέρος σε κλήρωση για να κερδίσουν πλούσια δώρα (αεροπορικά εισιτήρια, διανυκτερεύσεις σε ξενοδοχεία και δωροκουπόνια).