Events
Event on women and children's rights in armed conflicts to be held at Frederick University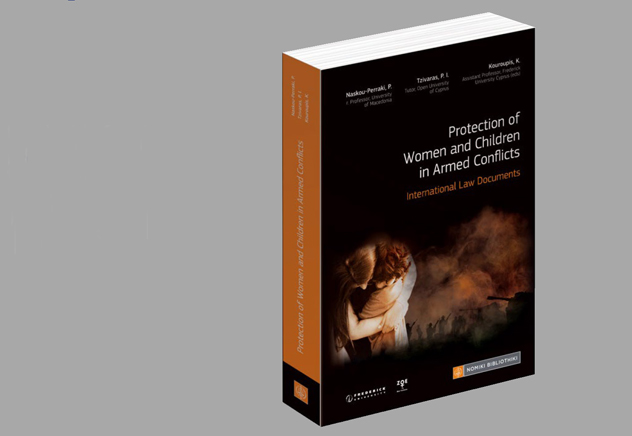 Frederick University and the "ZOE VS War Violence" Foundation co-organize a discussion and book presentation on the violation of women and children human rights in the context of Jus in Bello and Jus post Bellum.
The event will take place on Tuesday 28 November from 18:00 until 20:00 at Frederick University in Nicosia and will be addressed by the Minister of Justice, Ms. Anna Koukkides-Prokopiou, the Head of Frederick University's Law Department, Professor Christos Clerides, and Ms. Natassa Frederickou, President of the University's Council and Vice President of the "ZOE vs War Violence" Foundation.

The book "Protection of Women and Children in Armed Conflicts" will be presented during the event. The book's authors are: Dr. Paraskevi Naskou-Perraki, Professor of International Law and International Organizations, Dr. Konstantinos Kouroupis, Assistant Professor at Frederick University's Law Department and Dr. Ioannis Tzivaras, Doctor of Law at the Democritus University of Thrace and Lecturer at the Open University of Cyprus. In their presentation, the authors will talk about the protection of civilians in times of armed conflict from crimes against sexual dignity.
Dr. Andreas Mavroyiannis, Member of the UN International Law Commission and Associate Professor of Public International Law at Frederick University's Law Department will be one of the event's speakers. During his speech, Dr Mavroyiannis will refer to efforts to condemn Turkey's international crimes during and after the invasion of Cyprus in 1974 and the massive violations against women.
A discussion, moderated by Dr. Panayiotis Degleris, Associate Professor at the University's Law Department, will follow.
"Through this event we want to shed light on the distinct aspects of women's and minors' rights and highlight the need to combat sexual violence against these vulnerable groups during armed conflicts. We also seek to clarify the legal framework for the protection of persons at international level who are affected before, during and after any armed conflict", explains Ms Natassa Frederickou.
The event will be held in Greek.

You can view the event's agenda here.
Register online or by phone at 22394394 (Christiana Ioannou, Monday-Friday 09:00-16:00). Deadline for registrations: 23 November.
The event is under the auspices of the Minister of Justice and Public Order and is part of the 16 Days of Action to End Violence against Women, a United Nations campaign which starts on 25 November, the Day for the Elimination of Violence against Women, and ends on 10 December, International Human Rights Day. The event is supported by the Office of the Gender Equality Commissioner and the Ministry of Justice and Public Order.

The event is recognised as an accredited programme for the purposes of Continuing Professional Development (CPD) of lawyers, in accordance with Regulation C.D.P. 386/2017 with 2 accredited CPD credits. Members of the Cyprus Bar Association who wish to attend the event can register through the CPD platform