News
Campaign to address the underrepresentation of women in engineering and technology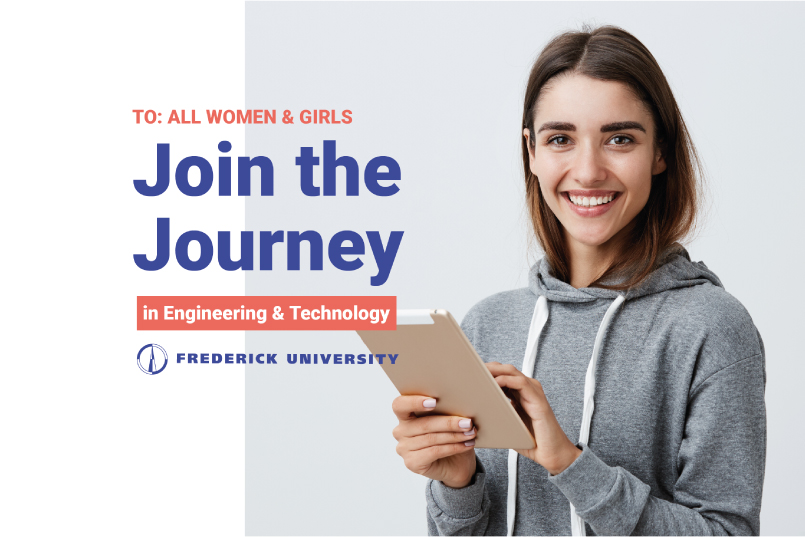 Scholarships to all girls who choose to study Engineering and Technology programs

Recognizing the importance of women's representation in Engineering, Science and Technology and joining the global effort to reduce the gender gap in these fields, Frederick University is launching a long-term campaign entitled 'To all women & girls: Join the journey in Engineering, Science and Technology.'
The main part of the campaign is a generous scholarship program for all girls who will follow these fields, while at the same time actions to inform and empower them will also be implemented.
The campaign is under the auspices of the Commissioner for Gender Equality, Ms. Iosifina Antoniou, and will offer special scholarships to all girls who will enroll in the 2021-22 academic year to study Engineering and Technology programs (undergraduate level) at Frederick University School of Engineering. In addition, during the campaign there will be interactive workshops and activities aimed at female primary and secondary school students, so that they come into contact with these fields and gain the skills and confidence to achieve their goals.
Ms Natassa Frederickou, President of Frederick University's Council, says: "Part of our policy is the perennial promotion of gender equality and the empowerment of all women and girls so that they can achieve their full potential. At the moment, women are excluded from the fastest growing sectors and sectors that present excellent employment prospects and working conditions. This unequal exclusion does not occur by chance. Too many girls are limited by prejudices, social norms that influence their choices and stereotypes that tend to see science courses and professions as masculine in nature. According to research, it is precisely for these reasons that girls hesitate to choose Engineering, Science and Technology related studies, even if they excel in related subjects. Our aim is to eliminate prejudices and stereotypes and encourage more girls to choose studies and careers in these fields. That is why, as part of the campaign, we will join forces with successful women in these fields who can be a source of inspiration for girls."
To this end, Frederick University is offering scholarships to all female candidates who will apply to the undergraduate programs in Computer Science, Computer Engineering, Mechanical Engineering, Automotive Engineering, Electrical Engineering, Architect Engineer and Civil Engineering at Frederick University School of Engineering. The scholarships will cover 50% of tuition fees and are valid for the first academic year with the possibility of automatic renewal based on the student's academic performance at the University.
Professor George Demosthenous, Rector of Frederick University and a Mechanical Engineer himself, notes: "The history of Frederick University is intertwined with the development of Technology and Engineering Science in Cyprus. We could not, therefore, remain uninvolved in the global effort to reduce the gender gap in these areas. We must invest in the talent of girls and women, in their ingenuity and creativity. We are sure that they have a key role to play in finding solutions that will improve our lives. Through this campaign, we encourage them to share their own perspective and develop new ideas for a better world for all of us."
The presence of women in the fields of Engineering, Science and Technology is not only a matter of equality. It is a social issue that affects the development and sustainability of the planet. Scientific fields will play a leading role in the Fourth Industrial Revolution. By 2030, it is expected that 40-160 million women will need to change professions and take on roles that require more complex digital skills. If women do not make the necessary transition into technology and science occupations, they will not have access to the labor market and will be disproportionately affected by unemployment rates.
As Professor Christos Themistos, Dean of the School of Engineering of Frederick University, explains: "Science, Technology and Engineering are on a rapid development trajectory, but if we do not fully utilize our potential we will not be able to respond to the challenges of our century. This is because there are so many jobs that cannot be filled exclusively by men. Closing the gender gap will result in higher productivity and increased labor market activity, which will contribute to economic growth and prosperity."
Gender equality and the empowerment of all women and girls are among the 17 Sustainable Development Goals of the United Nations. The realization of these goals will lead to a healthy planet and a world that is fairer, more peaceful, with health, safety and prosperity, a world above all sustainable, that will meet the needs not only of the current generation but also of future generations. The campaign "To all women and girls: Join the journey to Engineering, Science and Technology" is part of the Integration of the United Nations Sustainable Development Goals in the Strategic Planning of Frederick University with the aim of achieving a better future for all, and is implemented by the ENAF (Scientific Committee on Gender and Equality of the University of Frederick) and the Polytechnic School of the University.
For more information, visit the campaign website, at the link: https://www.frederick.ac.cy/women-in-STEM/el/home-en