News
STEM Camp successfully held, featuring a custom-built Escape Room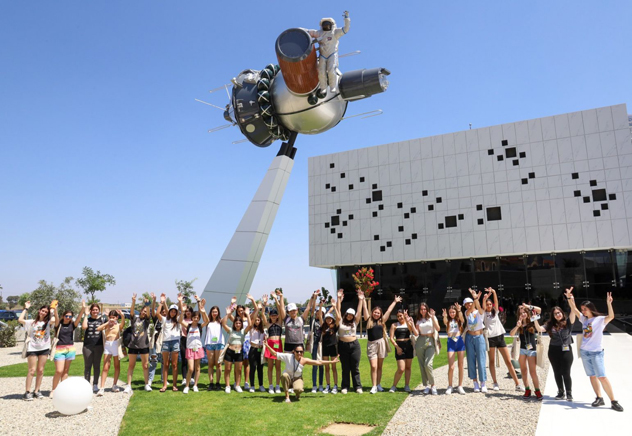 For the second consecutive year, Frederick University organised a STEM Camp for girls aged 13-16, as part of its long-term campaign to tackle the underrepresentation of girls and women in STEM disciplines (Science, Technology, Engineering, Mathematics).
The STEM Camp took place on 3-7 July at the University's Nicosia campus, offering the participants a series of workshops in Architecture and Architecture Engineering, Chemistry, Mechanical Engineering, Civil Engineering, Computer Science and Robotics. This year's highlight was the Escape Room specially designed for the STEM Camp by two PhD students at Frederick University: Mr David Hadjichristodoulou who is doing his PhD in Electrical Engineering and Mr George Xekalakis who is doing his PhD in Civil Engineering.
During the workshops presented by members of the University's Faculty, staff and students, the girls had the opportunity to explore, create, experiment, build, and solve problems with resourcefulness, analytical thinking and lots of creativity. They also participated in empowerment and self-development workshops.
The STEM Camp concluded with a visit to the Cyprus Planetarium where the girls were given a sense of the Celestial Space inside the impressive Planetarium Dome.
Ms Irene Angastinioti was the Camp's coordinator. The University would like to thank all faculty members who carried out the workshops, members of the administrative staff, and students who worked to make this year's STEM Camp a success. STEM Camp is funded by the National Mechanism on Women's Rights.
Learn more about the long-term campaign "To all women & girls: Join the Journey in Engineering, Science and Technology" here.
The campaign runs within the University's commitment to supporting the United Nations' Sustainable Development Goals (SDGs) focused on achieving a better future for all through reducing inequalities, providing access to quality education, and offering equal opportunities to all. In the framework of the campaign, Frederick University offers scholarships of 50% to all girls who choose to study at the University's School of Engineering.
Learn more about the 50% scholarships offered by Frederick University here and about the two scholarships (100% and 80%) jointly offered by Chevron and Frederick University here.