News
Members of our community at the EU-CONEXUS Wrap-Up Conference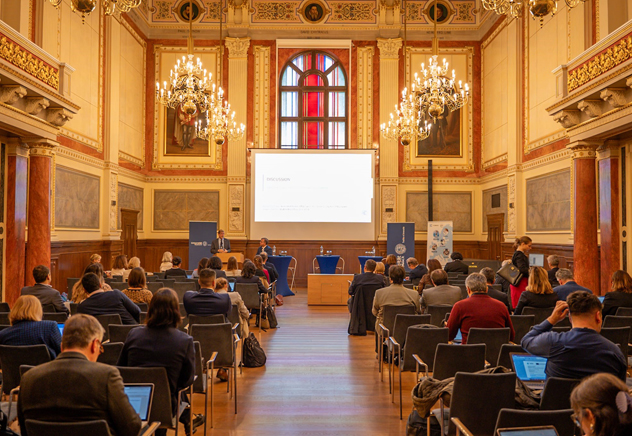 On November 15, representatives from all 9 EU-CONEXUS partner Universities, together with stakeholders and associated partners and EU governing bodies, gathered for the EU-CONEXUS Wrap-up Conference. Members of our community participated in the event.
Hosted by the University of Rostock, Germany, this event presented a unique opportunity to not only reflect on the past academic year but also define the next chapter of this collective experience and growth.
To represent Frederick University, members of our academic, research, and administrative staff traveled to Germany: Professor George Demosthenous - Frederick University's Rector and member of the EU-CONEXUS Governance Board, Professor Michael Komodromos - Vice Rector and member of the Alliance's Research Board, Professor Costas Kyriacou - Vice Rector and member of the Academic Council, Mr Angelos Angelodemou - EU CONEXUS Project Manager and member of the Management Board, Mr. Savvas Evripides, member of the Project Development Support Office, and Dr Xenia Loizidou, member of the External Advisory Board of EU CONEXUS.

To set a tone for the event, a welcome word was given by three speakers: Prof. Dr. Elizabeth Prommer, rector at the University of Rostock, Susanne Bowen, Secretary of State at the Ministry of Science, Culture, Federal and European Affairs, and Jean-Marc Ogier, Rector of La Rochelle University and Chair of EU-Conexus Governing Board. The presence of S. Bowen added a layer of significance to the event, emphasizing the collaborative spirit between the academia and the government.

The agenda of this year's conference featured a total of 4 sessions: an Education session, a Research and innovation session, a Community Engagement session, and an External Advisory Board Input session.

During the Education session, selected representatives from partner universities provided an overview of main achievements in 2022/2023 and shared their outlook for 2023/2024. Following the presentation, the session concluded with a discussion titled "Micro-credentials". It was mostly focused on student participation in Minor programs and actions that could be taken to improve it. One of the proposals was to train students for mobility by supporting them in establishing networks and their preparation for mobility. Other solutions included offering more courses with physical mobility (instead of online access) and integrating Minor courses in existing study programs.
The Research & Innovation session also featured an overview of main achievements in 2022/2023 and anticipated developments for 2023/2024. The presentation transitioned into a discussion titled "How to improve collaboration in the EU-CONEXUS Joint Research Area?", which brought together experts from diverse fields. This session featured topics such as joint research efforts and opportunities within the alliance, interdisciplinary collaboration practices, promotion of EU-CONEXUS external services within the business sector, the benefits of different mobility opportunities (Ph.D. summer schools, open courses, exchanges, etc.), and the ENABLES project. Jean-Marc Ogier, President of the Alliance, concluded this session by encouraging all partner universities to view and treat EU-CONEXUS as a family rather than a project. "If we want to go far – we should go together", he concluded.

The Community Engagement session started with a reflection on 2022/2023 and a vision for 2023/2024, followed by a discussion segment titled "Objectives and tools for community engagement". In terms of increasing engagement within the external community, one of the suggestions was to structure EU-CONEXUS so that the alliance could be able to respond to societal challenges coming from stakeholders. In terms of boosting engagement within the internal community, a need to create a general framework was focal to the discussion. This way, EU-CONEXUS could improve its recognition and support for initiatives from administrative staff, students, researchers and professors.

Finally, the event concluded with an External Advisory Board Input session. It featured 6 Advisory board members from educational and business sectors, among them Dr Xenia Loizidou, Director of ISOTECH and Frederick University's collaborator.

The guests highlighted a series of challenges that EU-CONEXUS must overcome, along with ideas on how to achieve results more quickly and efficiently. They identified changes in national legislative systems as a crucial factor for the sustainability of alliances. According to the board, such changes would make it possible to legitimize and recognize the Alliance's joint study proposals.

Another big challenge that was highlighted during this session was the financial sustainability of the Alliance following a possible halt of EC financial support. In direct relation to this challenge, significant attention was devoted to enhancing communication and outreach of the Alliance to ensure that both the concept of European Universities Initiative and EU-CONEXUS itself would be more known and recognized in national communities and among target audiences. That includes reaching out to students, stakeholders, and businesses.

Finally, the board also stressed the importance of empowering students. Partner universities and the alliance as a whole was regarded as having the power to equip students not only with professional knowledge but also with soft skills that would help them sell their ideas – both by carving out traditional career paths and by materializing their ambitions within the startup space.